TENNESSEE | WATTS BAR
Watts Bar Reactors 1 & 2
Watts Bar 1 is operated by Tennessee Valley Authority
Watts Bar 2 is under construction
Located in Spring City, TN (60 mi SW of Knoxville)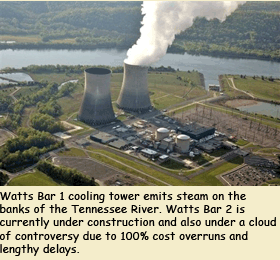 The Tennessee Valley Authority's (TVA) Watts Bar 1 nuclear reactor began operation in 1996 after starting construction in 1972. Watts Bar 1 cost $6.8 billion and is the last reactor of the current generation of U.S. nuclear reactors to come online in this country. It took longer to build Watts Bar 1 than any other U.S. reactor. None of this country's other 109 commercial reactors have taken longer to license and perhaps none have been more vilified by its own workers which continue to set records with whistleblower complaints.
TVA said it had overestimated energy demand and stopped construction on the Watts Bar 2 reactor in 1985. In 2007, flush with the promise of a now-deflated "Nuclear Renaissance," TVA resumed construction on Watts Bar 2. The ensuing years have been checkered with embarrassing snafus (militaryspeak for "situation normal; all fouled up") culminating in the hasty departure of Watts Bar's Iranian construction manager when the U.S. Nuclear Regulatory Commission (NRC) flagged security concerns. In early 2012 a construction stand-down was instituted when workers disabled cables in the running Watts Bar 1 reactor, mistaking it for the still-under-construction Watts Bar 2 which shares the Watts Bar 1 control room.
In April 2012, the TVA board voted to spend an additional $2 billion and spend three more years attempting to finish Watts Bar 2. Former TVA chairman Dave Freeman said they should treat the nuclear decision like a business decision instead of a religious decision. Current TVA chairman Tom Kilgore sits on the executive committee of the nuclear industry lobby group NEI.
Watts Bar reactors are of a now-discredited design which uses an ice condenser containment. In government reviews of the meltdown and explosion of Three Mile Island, analysts predicted the thinner "eggshell" containment used in Westinghouse's ice condensers would have a 100% failure rate under the same conditions which caused the Three Mile Island accident.
Despite the dismal experience of finishing Watts Bar 1, TVA persists in its attempts to complete the second reactor even as it reports that the estimated cost to finish Watts Bar 2 will be an additional $2 billion and the estimated completion date has been moved from 2013 to December 2015.
Watts Bar in the Nuclear Weapons Business
In 1998, the U.S. Department of Energy (DOE) which builds nuclear weapons was in need of a new reactor to produce radioactive hydrogen, tritium, for thermonuclear weapons. TVA pitched its unfinished reactors in Alabama at the Bellefonte site, hoping to sell them to the federal government, or at least to get the feds to bankroll finishing the "white elephant" nuclear projects.
Then-Secretary of Energy Bill Richardson backed quasi-federal agency TVA into a political corner and forced the issue of using commercial reactors at Watts Bar to produce the nuclear weapons material. (The similar Sequoyah reactors in Chattanooga are also in this program though tritium production has not begun there as of yet.) Although the need for nuclear weapons tritium has never been proven by DOE or its super-secret internal weapons club National Nuclear Security Administration (NNSA), Watts Bar 1 has been producing tritium and sending it to Savannah River Site in South Carolina since 2005. Subsequently, a concerning amount of tritium has been found to leak from the process and tritium has been found in the local environment.
Fukushima-type disaster inevitable in U.S.?
July 19, 2011: Part 1 of a hard-hitting CBS Early Show report looks at Watts Bar and features Tennessee activists TVA whistleblowers Ann Harris and David Lochbaum who is now with Union of Concerned Scientists.
Whistleblowers "terrified" at TVA nukes plants?
July 20, 2011: Part 2 of hard-hitting CBS Early show report looks at safety culture at TVA and features Ann Harris of whistleblower support organization We the People, Inc.
Find the reactors on the Tennessee River!
See if you can follow the Tennessee River on the Google map and find the other TVA reactors! (Here's a hint: Watts Bar is the easternmost reactor on the Tennessee River.)
At the beginning of the nuclear craze, TVA planned to construct reactors every 100 miles along the Tennessee River. Fortunately, President Jimmy Carter appointed S. David Freeman to the TVA board of directors in 1977 where he was able to save TVA from bankruptcy by stopping nine ADDITIONAL nuclear power reactors that were on order and under construction. That turned out to be a major good thing when you consider that the three operating reactors upstream from the three TVA reactors at Browns Ferry in Alabama dump so much heated water into the Tennessee River the Browns Ferry reactors cannot operate half the time in the summer because the temperature of the Tennessee River reaches over 90 degrees Fahrenheit!
TAKE ACTION!
Contact the TVA board of directors and urge them to abandon nuclear energy, especially the construction of a dangerous ice condenser reactor at Watts Bar, and start harvesting the sun and the wind!
TVA Board of Directors
c/o Rebecca Tolene, Board Services
400 West Summit Hill Drive WT 6
Knoxville, TN 37914
865-632-4000
tvainfo@tva.gov
board@tva.gov
NO NUKES Y'ALL!
"To the village square
we must carry the facts
of atomic energy.
From there must come America's voice."

ALBERT EINSTEIN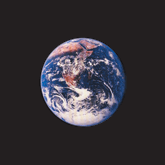 ~~~~~~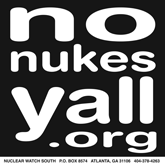 ~~~~~~~
HOT RESOURCE
~~~~~~~
WATTS BAR FACTS
WATTS BAR 1
Pressurized water reactor, ice condenser
Utility: Tennessee Valley Authority
Reactor Supplier: Westinghouse Electric Corp.
Steam Generator Supplier: Westinghouse Electric Corp.
Architecture: Tennessee Valley Authority
Construction: Tennessee Valley Authority
Net output 1,100 MW
IMPORTANT DATES
1973 -Construction permit
1984 -Operating license (CPPR-91)
1996 -Commercial operations began
1998 -Dept. of Energy targets Watts Bar to produce tritium
2003 -NRC licenses tritium production
2003 -tritium production begins
2003 -tritium leaks discovered
2005 -tritium rods extracted and sent to Savannah River Site
2006 -Four steam generators replaced
2035 -Operating license expires

WATTS BAR 2
Pressurized water reactor, ice condenser
Utility: Tennessee Valley Authority
Reactor Supplier: Westinghouse Electric Corp.
Steam Generator Supplier: Westinghouse Electric Corp.
Architecture: Tennessee Valley Authority
Construction: Bechtel
Rated at 1,177 Mw
IMPORTANT DATES
1973 -Construction permit
1985 -Construction stopped
2007 -Construction restarted
2011 -TVA announces delays and cost overruns
2011 -NRC flags TVA for undisclosed security issues; TVA replaces Iranian construction head
2012 -TVA orders construction "stand down" and then votes to spend $2 billion and three more years to finish the reactor
2015 Revised projected reactor start-up

RADIOACTIVE WASTE INVENTORY (2012)
317 metric tons
in cooling pools
SOURCE: TVA
~~~~~~~
Spring City, Tennessee
Race and Ethnicity
Spring City
U.S.
White
94.5%
75.1%
Black
04.5%
12.3%
Native American

00.4%

00.9%
Asian
00.0%
03.6%
Hawaiian
00.0%
00.1%
Other
00.0%
05.5%
Mixed race
00.5%
02.4%
Latino
00.4%
12.5%
Median income
$27,009
$41,994
College degree
04.9%
15.5%
SOURCE: U.S. Census, 2000