ACTION CENTER | SUPPORT SB393: SAVE SCHOOL MONEY
Tell the Georgia Senate Committee:

"PASS SB393!
SCHOOL MONEY SHOULD BE FOR SCHOOLS"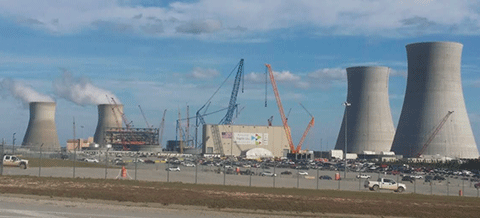 Vogtle 3 & 4 are under construction funded in part by up-front payments from Georgia schools which are paid through a surtax on school power bills. Photo ©2017 by Gloria Tatum.
BACKGROUND:In the aftermath of the controversial decision by the Georgia Public Service Commission to continue construction at the beleaguered Vogtle 3 & 4 nuclear reactors which are behind schedule, overbudget, and by many accounts, not even needed, Georgia Senator Lindsey Tippins (R) head of the Senate Education Committee has introduced Senate Bill 393 to exempt Georgia public and charter schools from paying the surtax on power bills which charges upfront for Vogtle construction.
Consider these sad facts: Atlanta Public Schools paid $1,000,000 for the nuclear tax in 2017. Savannah/Chatham County Schools paid $271,000 -- enough to hire four fulltime teachers! SCHOOL MONEY SHOULD BE FOR SCHOOLS!
SB393 needs your support to get out of the committee and to the Senate floor before Wednesday's midnight deadline.
TAKE ACTION! Below is a letter researched and written by experts you can send by filling in your name and address. It will go straight from you to the members of Georgia's Senate Regulated Industries and Utilities Committee. You may edit the letter any way you like.
TAKE ACTION!
EDIT AND SIGN THE LETTER
STOP PLANT VOGTLE!