ACTION CENTER | VOGTLE CO-OWNERS: STOP PLANT VOGTLE
Tell the Vogtle co-owners:
DING DONG! The nuke is dead!
Which old nuke? The Vogtle nuke!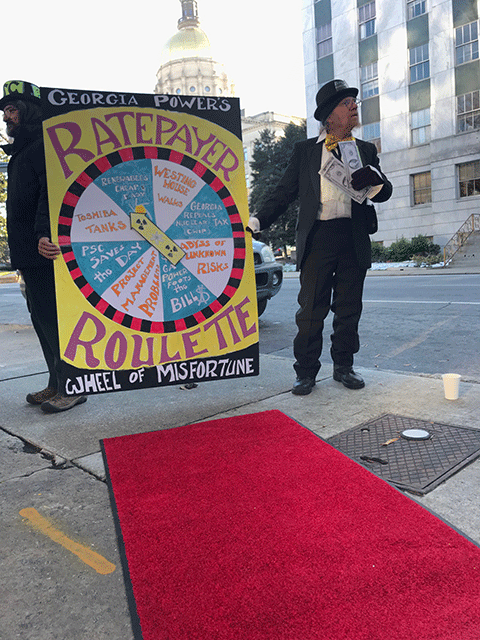 Nuclear Watch South activists Stephen Wing and Tom Ferguson stand with Tom's creative Ratepayer Roulette Wheel of Misfortune outside the Georgia Public Service Commission where the fate of Georgia Power's nuclear construction fiasco Plant Vogtle will be decided on December 21, 2017. Photo by Kelly Jordan.
BACKGROUND: Vogtle 3 & 4 are for all practical purposes already dead, being kept on life-support only with massive infusions of public money.
On December 21, 2017, the Georgia Public Service Commission which regulates Georgia Power, will decide whether to pull the plug or attempt to finish the reactors with billions more of yours and my dollars.
The PSC has been hearing from the public but this special action targets a group potentially more powerful than Georgia Power and the PSC ... the public power EMCs and community co-ops that together own more than half the Vogtle project. And any one of them can PULL THE PLUG ON VOGTLE by deciding it doesn't want to gamble further on Vogtle 3 & 4.
The letter below details some of the great risks to the Vogtle 3 & 4 investment.
TAKE ACTION! Below is a letter researched and written by experts you can send by filling in your name and address. It will go straight from you to the CEOs of Oglethorpe (Bobby C. Smith, Jr.), MEAG Power (Gregory P. Thompson) and Dalton Utilities (Tom Bundros). You may edit the letter any way you like.
Nuclear Watch South has been an active participant in proceedings at the PSC and has learned that the co-ops are more concerned about the gamble to go forward with Vogtle 3 & 4 than Georgia Power because they are more vulnerable to its failure, lacking shareholders and PSC protection. The co-ops possess the power to "pull the plug" on Vogtle 3 & 4 by opting out of going further. The action letter highlights several risks that emerged in last week's hearings and encourages the co-ops to take the lead and STOP PLANT VOGTLE.
TAKE ACTION!
EDIT AND SIGN THE LETTER
LINKS TO REFERENCES IN LETTER
TAKE FURTHER ACTION
If you receive your electric power from one of the Georgia co-ops, please take these extra action steps:
~ look-up how to email your local co-op
~ copy and paste this letter into an email
~ title your email something descriptive like "DANGER AHEAD: Vogtle Fiasco Means Trouble for Ratepayers"
~ send them the letter!
STOP PLANT VOGTLE!