ACTION CENTER | TELL GEORGIA PSC: "PROTECT THE PUBLIC FROM
VOGTLE COST OVERRUNS!"
NOTE: THIS ACTION IS CLOSED WITH THE 12/20/16 VOTE TO STICK THE PUBLIC WITH VOGTLE COST OVERRUNS
Tell the Georgia Public Service Commission
to stand up for the public!
Let Georgia Power's shareholders pay
for the cost overruns at Vogtle

Only the five Georgia Public Service Commissioners can protect Georgia electricity customers from ballooning cost overruns at Vogtle. The two reactors under construction were supposed to come on-line this year but are only 36% finished and construction is falling further and further behind.
Now the Georgia Public Service Commission (PSC) is being asked to vote on a sweetheart deal between its advisory staff and the company it regulates. If the PSC votes to accept the deal, Georgia electric customers will be forced to eat yet another $2.2 billion of Georgia Power's costs on the ill-advised nuclear construction.
The PSC votes on December 20, 2016. Send an e-mail to the commissioners TODAY!!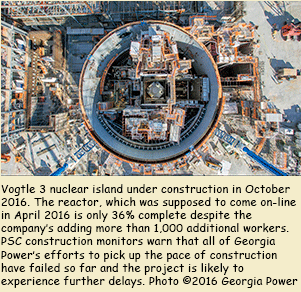 BACKGROUND The PSC is contemplating an unprecedented mid-construction "prudency" review of more than $2 billion in cost overruns that Georgia Power was stuck with following lengthy litigation with its construction partners over who was responsible for cost overruns and delays with Vogtle 3 & 4 construction.
Georgia Power's shareholders are already enjoying historic high profits resulting from the cushy financing arrangements Georgia Power made to construct two reactors using U.S. taxpayers and Georgia ratepayers money.
Experts have testified, and Georgia Power has not refuted, that Georgia Power's sales have gone flat and its capacity utilization is only 65%. The evidence shows clearly that Vogtle 3 and 4 are simply not needed. See: Georgia Power Key Financial & Operating Data
The five commissioners have all testified that they are fans of nuclear power and have allowed construction of the unneeded reactors to continue at the public's expense. Now they are asked to pass on $2.2 billion in cost overruns to the customers they are supposed to be protecting. We say it's Georgia Power's shareholders' turn to invest in the unneeded nuclear project!
You are invited to read, sign and send the action email below. You may edit the comments any way you wish.
Send an e-mail to the Commissioners:
PROTECT GEORGIA RATEPAYERS ~ VOTE "NO" ON THE STAFF/GEORGIA POWER STIPULATION
NO NUKES Y'ALL!