TENNESSEE | SEQUOYAH
Sequoyah Reactors 1 & 2
Sequoyah 1 & 2 are operated by Tennessee Valley Authority
Located in Soddy-Daisy, TN (9.5 mi. NE of Chattanooga)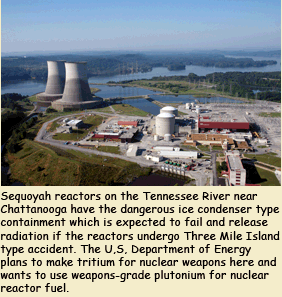 The Tennessee Valley Authority's (TVA) Sequoyah nuclear reactor began operation in 1981 after starting construction in 1971. It was the first license to be issued by the Nuclear Regulatory Commission (NRC) after the meltdown at Three Mile Island in March 1979.
Sequoyah reactors are of a now-discredited design which uses an ice condenser containment. In government reviews of the meltdown and explosion of Three Mile Island, analysts predicted the thinner "eggshell" containment used in Westinghouse's ice condensers would have a 100% failure rate under the same conditions which caused the Three Mile Island accident.
Sequoyah is listed by the NRC as having the fourth highest earthquake risk of the nation's 104 nuclear reactors and the issue is receiving more scrutiny in the aftermath of Fukushima.
Sequoyah has distinguished itself negatively multiple times yielding many tough nuclear industry lessons. On Februrary 11, 1981, an Auxiliary Unit Operator, working his first day on the new job without proper training, inadvertently opened a valve which led to the contamination of eight men by 110,000 gallons of radioactive coolant sprayed into the containment building of the Sequoyah I reactor. On April 19, 1984, 16,000 gallons of radioctive reactor coolant leaked over 11-hour period.
Nuclear engineer DAVE LOCHBAUM with the UNION OF CONCERNED SCIENTISTS has compiled a group of FISSION STORIES and Sequoyah's woes fuel many of them from dangerous flooding incidents to serious security breaches to reactor design failures and an almost deadly near miss.
Fission Stories #11: No Knock-Knock Joke
Fission Stories #32: Luckiest Workers in Tennessee
Fission Stories #43: The (Water Level in the) South's Gonna Rise Again
Fission Stories #53: Read Between the Lines
Sequoyah to get in the nuclear weapons business?
In 1998, the U.S. Department of Energy (DOE) which builds nuclear weapons was in need of a new reactor to produce radioactive hydrogen, tritium, for thermonuclear weapons. TVA pitched its unfinished reactors in Alabama at the Bellefonte site, hoping to sell them to the federal government, or at least to get the feds to bankroll finishing the "white elephant" nuclear projects. DOE pulled off a switcheroo and now Watts Bar is producing the nuclear weapons material in its commercial reactor and sending it to Savannah River Site for extraction. Sequoyah reactors also obtained an NRC license to produce tritium though DOE has stated it may not need to use Sequoyah reactors.
Now DOE has fixed its sights on Sequoyah again as a potential MOX plutonium fuel reactor. A MOX test fuel assembly failed in Duke Power ice condensers near Charlotte and Duke declined to renew its involvement in the MOX program. Now the DOE is desperate for reactors to perform the necessary irradiation services which is how the plutonium is supposed to get so radioactive it cannot be stolen and used in nuclear weapons. DOE is courting TVA to enlist Sequoyah and the GE Fukushima-design reactors at Browns Ferry in the MOX plutonium project which would mean 10 years of licensing and testing in these rickety old reactors.
Find the reactors on the Tennessee River!
See if you can follow the Tennessee River on the Google map and find the other TVA reactors! Sequoyah is centrally located. Travel west to find three reactors at Browns Ferry in Alabama. Travel east to find Watts Bar near Knoxville.
At the beginning of the nuclear craze, TVA planned to construct reactors every 100 miles along the Tennessee River. Fortunately, President Jimmy Carter appointed S. David Freeman to the TVA board of directors in 1977 where he was able to save TVA from bankruptcy by stopping nine ADDITIONAL nuclear power reactors that were on order and under construction. That turned out to be a major good thing when you consider that the three operating reactors upstream from the three TVA reactors at Browns Ferry in Alabama dump so much heated water into the Tennessee River the Browns Ferry reactors cannot operate half the time in the summer because the temperature of the Tennessee River reaches over 90 degrees Fahrenheit!
TAKE ACTION!
Contact the TVA board of directors and urge them to abandon nuclear energy, especially the construction of a dangerous ice condenser reactor at Watts Bar, to refuse MOX and start harvesting the sun and the wind!
TVA Board of Directors
c/o Rebecca Tolene, Board Services
400 West Summit Hill Drive WT 6
Knoxville, TN 37914
865-632-4000
tvainfo@tva.gov
board@tva.gov
NO NUKES Y'ALL!
"To the village square
we must carry the facts
of atomic energy.
From there must come America's voice."

ALBERT EINSTEIN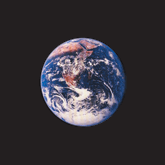 ~~~~~~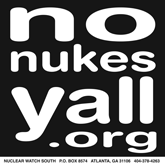 ~~~~~~~
HOT RESOURCES
~~~~~~~
SEQUOYAH FACTS
SEQUOYAH 1
Pressurized water reactor, ice condenser
Utility: Tennessee Valley Authority
Reactor Supplier: Westinghouse Electric Corp.
Steam Generator Supplier: Westinghouse Electric Corp.
Architecture: Tennessee Valley Authority
Construction: Tennessee Valley Authority
Net output 1,148 MW
IMPORTANT DATES
1970 -Construction permit
1980 -Operating license (CPPR-91)
1981 -Commercial operations began
1985-1988 Extended safety-related outage
1998 -Dept. of Energy targets Sequoyah to produce tritium
2003 -NRC licenses tritium production
2020 -Operating license expires

SEQUOYAH 2
Pressurized water reactor, ice condenser
Utility: Tennessee Valley Authority
Reactor Supplier: Brown Boveri et Cie
Steam Generator Supplier: Westinghouse Electric Corp.
Architecture: Tennessee Valley Authority
Construction: Tennessee Valley Authority
Net output 1148 Mw
IMPORTANT DATES
1970 -Construction permit
1981 -Operating license (#DPR-79)
1982 -Commercial operation began
2021 -Original operating license expires

RADIOACTIVE WASTE INVENTORY (2012)
796 metric tons
in cooling pool
378 metric tons
in dry cask storage
SOURCE: TVA
~~~~~~~
~~~~~~~
Soddy-Daisy, Tennessee
Race and Ethnicity
| | | | |
| --- | --- | --- | --- |
| | Soddy-Daisy | | U.S. |
| White | 98.2% | | 75.1% |
| Black | 00.6% | | 12.3% |
| Native American | 00.2% | | 00.9% |
| Asian | 00.2% | | 03.6% |
| Hawaiian | 00.0% | | 00.1% |
| Other | 00.2% | | 05.5% |
| Mixed race | 00.6% | | 02.4% |
| Latino | 00.8% | | 12.5% |
| Median income | $37,163 | | $41,994 |
| College degree | 07.9% | | 15.5% |
SOURCE: U.S. Census, 2000