GEORGIA | VOGTLE 1 & 2
VOGTLE 3 & 4 CONSTRUCTION INFO CLICK HERE
Alvin I. Vogtle (VOGTLE) Reactors 1 & 2
Operated by Southern Nuclear Operating (Southern Co. division in AL)
Located 26 Miles SE of Augusta, GA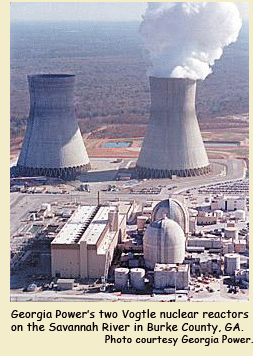 Georgia Power's two Vogtle nuclear reactors on the Savannah River bordering Georgia and South Carolina came on-line in the late 1980s after a long, bitter controversy which bankrupted Georgia Power Company only 10 weeks after construction began in 1974. Read Chronology of a Boondoggle to get the full saga of 1000% cost overruns and decades-long set-backs and construction delays.
Despite studies, reports, and lawsuits proving that Georgia did not need the power and there were cheaper, safer alternatives to nuclear reactors, by the end of 1989 Georgia ratepayers were saddled with two new nuclear reactors which were boiling water to make electricity and racking up nuclear waste in order for Southern Company to fill orders for electric power as far away as Florida and Texas.
— Southern Alliance for Clean Energy
The Water – Energy Connection: Georgia Facts & Figures, 2008
THE DAY WE ALMOST LOST GEORGIA
In March 1990, a truck backed into a power pole in the Vogtle reactor switchyard knocking out power to Unit 1. This set off a chain of scary events resulting in a loss of electrical power at BOTH Vogtle reactors when the emergency diesel generators would not start. A constant electric supply is required to keep water pumping to cool the reactors.
The Vogtle 1 reactor core WAS OPEN FOR REFUELING and had the situation persisted fuel would have begun to melt within four to five hours.
Fortunately the emergency generators finally started and the incident resulted in national regulatory reform, instead of a meltdown, with respect to maintaining emergency power supply at nuclear reactors. Read the U.S. Nuclear Regulatory Commission (NRC) report on the Vogtle accident.
Top-level manager at Vogtle, Allen Mosbaugh was fired by Georgia Power for blowing the whistle. He claimed Georgia Power officials deliberately misled the NRC about the 1990 accident at Vogtle. Mosbaugh secretly audiotaped Georgia Power meetings which revealed that plant managers knew about the diesel generator problems before the accident and falsified diesel reliability reports to the NRC. Mosbaugh went to court to get his job back after being fired for blowing the whistle and after several years reached an out-of-court settlement which closed the record on the case.
Nuclear Watch South (then called GANE - Georgians Against Nuclear Energy) also brought a legal intervention before the NRC about the diesel generator issue. Although we were unable to force Georgia Power to fix the broken diesels through the NRC system, a lawyer for Georgia Power later told Nuclear Watch South that we "really helped" -- that Georgia Power not only elected to upgrade the diesel generators as we had recommended, but had also taken our idea to tie-in to oil-fired Plant Wilson in Burke County for additional back-up electrical source.
CHRONOLOGY OF A BOONDOGGLE
VOGTLE ~ 20 years and $9 Billion
by Tim Johnson, former director of Campaign for a Prosperous Georgia
(Ed. note: Campaign for a Prosperous Georgia is now Southern Alliance for Clean Energy. Georgians Against Nuclear Energy is now NUCLEAR WATCH SOUTH.)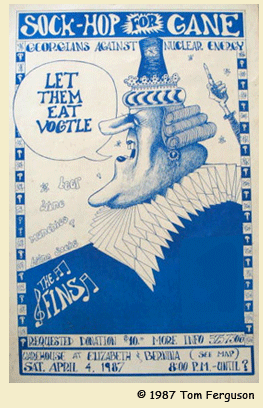 1969-1971 ~ Georgia Power (GPC) officials discuss building a nuclear plant on the Savannah River in Burke County and put Plant Vogtle on the drawing board as a four-unit nuclear plant to cost $1 billion.
1973 ~ GPC's construction manager conducts a brief economic evaluation — the only one done before construction began which concludes that Vogtle should not be built as a nuclear plant due to higher costs and uncertainties.
1973-1974 ~ GPC requests a construction permit for Plant Vogtle and the Atomic Energy Commission (AEC) holds hearings. The Georgia Power Project testifies that the plant will be too expensive and not needed. A student group objects to the plant on safety and economic grounds and recommends demand-side planning. Victor Skorapa, M.D. and others testify that the plant will be unsafe and cost too much. GPC says there will be blackouts by then. The AEC grants the permit and construction begins. Ten weeks later, GPC suspends construction — it is out of money. Due to incredible financial miscalculations, GPC nearly goes bankrupt.
1975-1977 ~ GPC receives emergency rate hikes from the PSC to assure its survival. It sells off portions of its plants — including the hole-in-the-ground Vogtle — to electric cooperatives and cities. It cancels two of the four Vogtle units. The Georgia Power Project petitions the Nuclear Regulatory Commission (NRC) to cancel the construction permit. Energy economist Charles Komanoff testifies for the Project that coal would be cheaper. The NRC allows construction to proceed, and in late 1977, Vogtle construction resumes. Growth in electricity consumption drops to less than 2% per year, compared with GPC projections of 10-12%. Georgians for Clean Energy forms, urging that Vogtle be halted and conservation and renewables pursued. Georgians Against Nuclear Energy (GANE) forms and urges a halt to Vogtle.
1979 ~ The year GPC predicted would see blackouts without four Vogtle units begins with the utility the most overbuilt power company in the nation, according to a Congressional study. In March, the Three Mile Island accident occurs. Although most utilities suspend nuclear plant construction at that time, GPC moves full speed ahead on Vogtle, which is less than 1% complete.
1980 ~ GPC boycotts PSC hearings on nuclear energy and conservation. Both sets of hearings demonstrate conclusively that demand-side options would be cheaper than continuing Vogtle. An economist performs an analysis demonstrating that it would be cheaper to convert Vogtle to coal. Energy expert Amory Lovins testifies that conservation investments would be cheaper than just running Vogtle, not even including the billions of dollars to build it. The PSC completes the hearings but never issues an order. Ratewatch forms, urging that Vogtle be halted.
1981-1982 ~ GANE releases a detailed study of Vogtle calling for cancellation. GPC, unable to refute the report, hires a Boston consulting firm to do so. The firm's report is so weak the utility tries to keep it secret. A utility employee leaks it to the press.
1983 ~ Campaign for a Prosperous Georgia (CPG) is formed at a January conference on energy. CPG tells legislative committees that Vogtle will cause rate hikes of $1 billion + if it is not stopped. Steven Prenovitz testifies for CPG that Plant Vogtle is not needed, will be too expensive and should be halted.
1984 ~ Urged to do so by CPG, the PSC agrees for the first time to review construction of Vogtle. GPC says it can't and sues. The court rules that PSC can, and should.
1985 ~ PSC hearings on GPC construction are held. A state consultant says it would be cheaper to build a coal plant (with scrubbers)* from scratch than to complete the almost-built Vogtle. CPG recommends cancellation of Vogtle and implementation of conservation measures. The PSC allows Vogtle construction to continue.
1985-1986 ~ Workers at Plant Vogtle speak publicly about safety problems in construction which have been covered up by management. The workers are fired. The NRC grants an operating license for Vogtle.
1987 ~ Vogtle Unit 1 begins full power operations after $6.4 billion in construction cost. A PSC consultant testifies more than half that money was misspent. CPG witness Jeff Tiller testifies that GPC should have invested in conservation instead of Vogtle. Southwire Company Manager Jim Clarkston testifies that demand-side investments would be cheaper than nuclear plants. The PSC grants GPC a rate increase which allows the utility to charge more than $750 million per year for Vogtle 1. The PSC agrees to hold least cost/demand-side energy hearings at an unspecified future date.
1988 ~ A federal agent files transcripts of secretly recorded conversations among GPC officials concerning falsified tax information, improper accounting procedures, illegal pressure to contribute to a favored PSC candidate and withholding of information concerning Vogtle in the 1987 rate increase. The PSC holds an information workshop on least cost energy planning.
1989 ~ The PSC votes, 3-2, to proceed with least cost hearings. On April 3, GPC files a $409 million rate hike request, including $351 million per year for Vogtle 2.
* Editor's note: Today this is called "clean coal" through the magic of marketing.
NO NUKES Y'ALL!
"To the village square
we must carry the facts
of atomic energy.
From there must come America's voice."

ALBERT EINSTEIN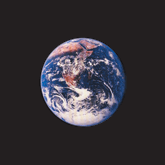 ~~~~~~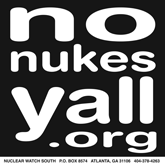 ~~~~~~
~~~~~~~
VOGTLE FACTS
VOGTLE 1
Pressurized water reactor
Utility: Georgia Power
Reactor Supplier: Westinghouse
Steam Generator Supplier: General Electric
Architecture: Bechtel, Georgia Power
Construction: Georgia Power
Rated at 1,215 Megawatts (net output 1,100 MW)
IMPORTANT DATES
1974 -Construction permit
1987 -Operating license (NPF-68)
1987 -Commercial operations began
2027 -Operating license expires
2009 -NRC issues 20-year license extension until 2047
VOGTLE 2
Pressurized water reactor
Utility: Georgia Power
Reactor Supplier: Westinghouse
Steam Generator Supplier: General Electric
Architecture: Bechtel, Georgia Power
Construction: Georgia Power
Rated at 1,215 Megawatts (net output 1,097 Mw)
IMPORTANT DATES
1974 -Construction permit
1989 -Operating license (NPF-81)
1989 -Commercial operations began
2029 -Operating license expires
2009 - NRC issues 20-year license extension until 2049
RADIOACTIVE WASTE INVENTORY (2008)
1080 metric tons
208,504,800 curies
in cooling pools
~~~~~~~
Augusta (Burke County) Race and Ethnicity
| | | | |
| --- | --- | --- | --- |
| | Augusta | | U.S. |
| White | 46.9% | | 75.1% |
| Black | 51.0% | | 12.3% |
| Native American | 00.2% | | 00.9% |
| Asian | 00.3% | | 03.6% |
| Hawaiian | 00.0% | | 00.1% |
| Other | 00.6% | | 05.5% |
| Mixed race | 01.0% | | 02.4% |
| Latino | 01.4% | | 12.5% |
| Median income | $27,877 | | $41,994 |
| College degree | 06.5% | | 15.5% |
Source: U.S. Census 2000