ACTION CENTER | STOP NUCLEAR LOAN GUARANTEES
Tell President Obama and Energy Secretary Moniz: "NO TAX $$$ FOR VOGTLE ~ Stop nuclear loan guarantees"
NOTE: THIS ACTION IS CLOSED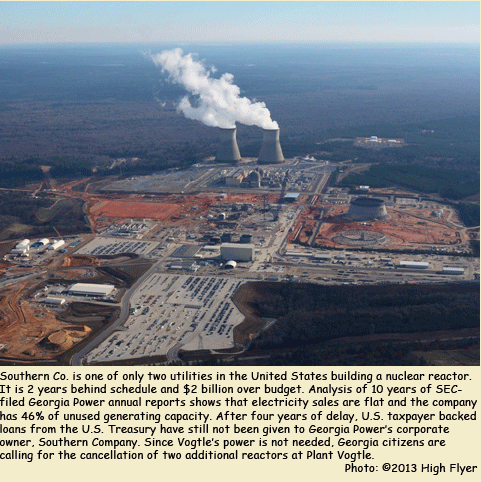 BACKGROUND The so-called Nuclear Renaissance has shriveled even as solar and wind power are setting new records for falling prices and rapid growth. Despite there being no market for additional power from Vogtle, Southern Company and Georgia Power have plunged recklessly ahead with construction of two additional reactors on the Savannah River backed by abundant ratepayer financing granted to them by Georgia Public Service Commission.
Southern Company, Georgia Power and its Vogtle partners Oglethorpe Power, MEAG Power, and City of Dalton are also banking on $8.3 billion in taxpayer-backed loans from the U.S. treasury which are still delayed after four years. Government loan guarantees have a dismal history with a 50% default rate. The loan guarantee program is under scrutiny because far less risky, less expensive programs than Southern Company's Vogtle project have defaulted.
Nuclear Watch South analyzed 10 years of Georgia Power annual reports and found that, instead of the projected 4% annual electric sales growth, the company has experienced 0% sales growth from 2002-2012. Further, it was discovered that Georgia Power is not even using 46% of its already available electric-generating capacity. Southern Company's 2013 4th quarter report filed on the eve of the last loan deadline shows deteriorating sales for three years in a row. If Vogtle's power cannot be sold, how can U.S. taxpayers expect to be repaid for the loan??
Please read the message below, edit if you wish, and send TODAY. Your message will be sent straight to President Obama as well as to Secretary of Energy Ernest Moniz, Douglas Schultz who directs the Department of Energy's loan guarantee designation and Congressmen Upton, Waxman and Sensenbrenner who serve on key committees overseeing the loan guarantee program.
NO TAX $$$ FOR VOGTLE Y'ALL!