ACTION CENTER | STOP PLANT VOGTLE WATER PERMIT
Tell EPD: "Plant Vogtle unnecessary, deny Plant Vogtle permit to squander Savannah River water
NOTE: THIS ACTION IS CLOSED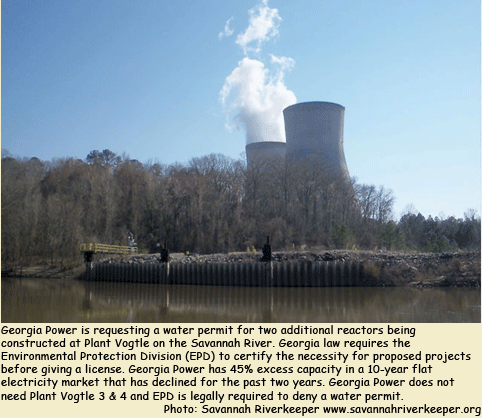 DEADLINE 5/15/14, 4:30 PM >> SKIP AHEAD TO ACTION
That sucking sound you hear? That's Georgia Power and its partners preparing to pull 74 million gallons of water a day out of the Savannah River to cool the nuclear reactors at Plant Vogtle near Waynesboro. That's in addition to the 127 million gallons per day the existing reactors are permitted to draw.
The Georgia Environmental Protection Division (EPD) is considering approving the massive surface water withdrawal permit request from the Savannah River for the two new nuclear reactors under construction at Plant Vogtle near Waynesboro.
The Savannah River, is already stressed from historic, protracted drought, earning the designation as the country's fourth most toxic river. With two more water-intensive new nuclear reactors proposed at Plant Vogtle in Burke Co., this already unacceptable situation will get worse. In fact, Plant Vogtle's expansion twice made the Georgia Water Coalition's infamous Dirty Dozen list!
The Savannah River is crucial to the culture and economy of Georgia. It provides drinking water to more than 1.4 million people, including the residents of Savannah and Augusta, two of Georgia's largest cities. Yet, the Savannah River has long been designated one of the most endangered rivers in the United States.
Georgia Power's Plant Vogtle units 1 and 2 are already the single largest user of surface water in the state of Georgia, using more water daily then the cities of Atlanta, Macon, Savannah, and Augusta combined. As a result, the Savannah River has seen a steady reduction in its flow.
The electricity from Vogtle Units 3 & 4 is not even needed. In 2013, Georgia Power testified to the Public Service Commission that it has and projects to have more then double the amount of power necessary for safe reserve margins. Issuing the proposed permit as drafted would violate Georgia law because EPD has not fully considered the extent to which the requested water withdrawals are reasonably necessary, nor whether the permit will have unreasonably adverse effects on other uses, including public use.
Tell EPD: "Deny Water Permit to Plant Vogtle 3 and 4"
Please read the message below, edit if you wish, and send TODAY. Your message will be sent straight to EPD.
NO WATER PERMIT FOR VOGTLE, Y'ALL!